This tour is conducted during the first day of the Summit. It is primarily for spouses and guests who are not attending the Summit sessions.

You will first visit the colorful downtown sections of Port-au-Prince, where many streets have been taken over by the "informal sector" and look like an immense flea market. You will see "La Place des Héros de l'Indépendance"; the Saint Trinity Cathedral (famous for its naïve biblical murals painted by Haitian masters), and the Victorian gingerbread architecture of some residential sections.

You will have lunch, after which you will proceed to Mt. Boutilliers, 3,500 feet above sea level. The mountain top dominates all of Port-au-Prince and provides you with breathtaking views of the city and harbour.

En route, you will visit Petion-Ville and the art galleries.
Cost: US$ 85.00 per person (Minimum 8 participants)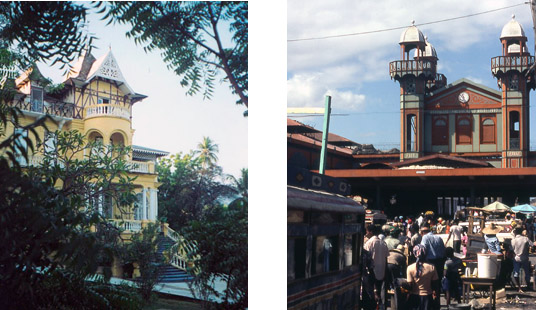 Gingerbread Architecture of old Port-au-Prince - Steel Market